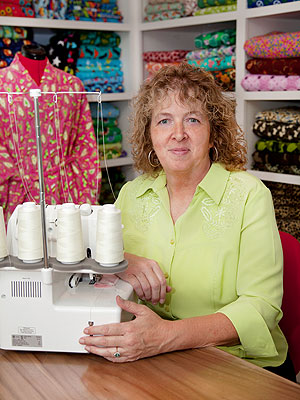 You know the old adage, 'When life gives you lemons, make lemonade'? Well, Brenda Jones is a woman who definitely took that notion to heart and is changing the world, one Hug Wrap at a time.
Facing the frightening diagnosis of breast cancer in 2008, Brenda turned her own despair and uncertainty into hope for others with her creative alternative to the traditional, drab hospital gown, in the form of her handmade, adorable and super cozy Hug Wraps.
The old gowns "take away patients' dignity, respect, comfort; it strips them of everything," says Brenda, of Southampton, New Jersey. "But when you put on a Hug Wrap, you put on a smile."
Each Hug Wrap is handcrafted by Brenda and her mission is a simple one: to make sure that every person facing cancer receives a Hug Wrap to know that they are loved and supported throughout their journey toward wellness. To date, more than 1,000 Hug Wraps have been distributed to cancer patients all around the world, each arriving to its recipient with a touching, hand-written note from Brenda — a special sentiment that, undoubtedly, makes a world of difference to those facing the fight of their life.
I have been personally touched by cancer, as I'm sure many of you also have been. My mother is a survivor and I have grandparents who have battled the disease, as well as a very courageous and inspirational classmate who faced breast cancer at 24 years of age and is now cancer-free! I hope to never, ever hear the words "You have cancer," but I'm so thankful that Brenda and her Hug Wraps are there for those who do.
Please reach out to Brenda to let her know that you think she's awesome and, if you are able to, support her initiative to make sure that every cancer patient has a Hug Wrap. She's on Facebook and Twitter and she is hoping to get Hug Wraps featured on The Ellen DeGeneres Show in October for Breast Cancer Awareness Month. You can tweet in support of that goal using #HugsOnEllen or contact the show, directly, to let them know that Brenda and her Hug Wraps rock!
If you know someone who is currently facing cancer, why not gift them a Hug Wrap to let them know that they are surrounded with hugs, love and support?
Thank you, Brenda, for your dedication to bringing a little more comfort, style and hope to those battling cancer. The world needs more people like you!!